Happy Light Day from the North Pole. The first Saturday of November is designated as Light Day, the time when most here begin to put up their Christmas lights.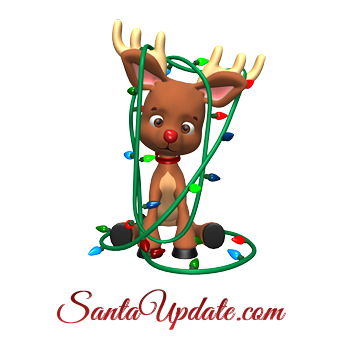 It is just part of the biggest contest of the year – the Christmas lights contest. Between now and Thanksgiving night elves decorate their homes in big ways. Then, as the darkness falls on Thanksgiving afternoon Santa leads the people of the North Pole on a walk to see all the lights.
Elves and their families plan for this all year.
These are not simple displays. They are complex, coordinated and animated displays that have only become more complicated in time.
Elves do not reveal their plans, going so far on Light Day to erect barriers, shields and covers to their homes before they actually hang any lights.
One of the most ardent participants in this display is a man named Elf Lenny Foster. By day, Lenny is an electrical engineer employed in Santa's workshop. By night, Lenny is a Christmas light freak. Lenny has won the lighting contest four times in more than 40 years of Christmas seasons.
Lenny's house is covered already and he's behind the curtain making his current masterpiece today.
The lighting contest is very popular for several reasons. First of all, nowhere in the world are Christmas lights more prolific than at the North Pole. As a place that does not always get much light during the winter the lights provide a public service.
But more importantly, the lights are a form of expression and a creative outlet for families here who want to broadcast their Christmas spirit and add to the festivities of the season.
Winning the light contest is a very prestigious thing. Lenny is a legend at the North Pole, for example. There are thousands of homes, thus thousands of elves competing in this contest. It is not easy to win.
For more information about Light Day at the North Pole, please listen to the North Pole Radio News Report in the player above.

https://santaupdate.com/wp-content/uploads/2023/11/110423.png
320
845
Elf Harold Star
https://santaupdate.com/wp-content/uploads/2023/01/newlogo23f.png
Elf Harold Star
2023-11-04 09:16:55
2023-11-04 09:12:24
Light Day Celebrated at the North Pole