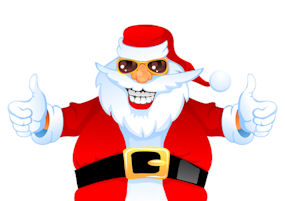 Santa was in quite a hurry today. He rushed from department to department here at the North Pole, shaking hands and patting elves on the back. Today is an important day in the work of Operation Merry Christmas 2011 — we begin the countdown to the countdown today. At least that is what Santa calls it.
We have lots of countdowns here at the North Pole. Every Christmas night we gather around the Christmas tree and start again the countdown to Christmas the next year. We countdown the days until to several important days of the year — there's the Elf Olympics held every February. There is the annual Candy Cane toss in April (that's where we try to toss candy canes around the top of a bottle without breaking it — it is a huge sport with the elves.) And there's the countdown to the countdown, which we hit today. The countdown to the countdown is how many days we have until the big clock in Santa's workshop shows us how many hours and minutes we have until Santa has to leave.
This year will be what we call a "short" Christmas. There are just 30 days between Thanksgiving and Christmas Eve — barely FOUR weeks. And because Christmas falls on a Sunday, Santa is scheduled to leave a little earlier this year because he doesn't like to fly or work on Sundays.
That means we have less time than we think to do the work of operation Merry Christmas. And I suppose that was why Santa visited everyone today to pump them up and cheer them on.
It also tells me that Santa will be leaving the North Pole soon. Every November and December Santa travels a lot. He goes all over the world. Maybe you will see him near where you live. He has appearances in many, many places between now and Christmas.
So things are busy here at the North Pole — already. I'll do my best to keep you updated on our progress.
— Elf Ernest
https://santaupdate.com/wp-content/uploads/2023/01/newlogo23f.png
0
0
Elf Ernest
https://santaupdate.com/wp-content/uploads/2023/01/newlogo23f.png
Elf Ernest
2011-11-02 22:47:33
2011-11-02 22:47:34
The Countdown to the Countdown Begins