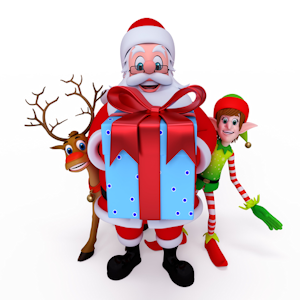 With full tummies and happy hearts folks were up early today at the North Pole to get Operation Merry Christmas 2012 rolling.
Over at Santa's Stables the day began in the dark as Elf Victor roused the A-team of reindeer into an early morning flight at 3am. "Reindeer love to fly mostly at night," Elf Victor explain. "They feel safer in the dark. So we get up early all the time to train. Today's flight was just a training exercise. We fly every day. The reindeer are not up to full speed yet, we're working our way up to full speed."
In Santa's workshop Elf Bernard said he got the lights on early, too. "There is no ceremony today," Elf Bernard said. "We just get down to work. Our first shift came on around 1am and it was a full group. About the only thing that is different about today for us is all the turkey sandwiches the guys are eating for lunch." We expect some good news from Santa's Workshop this weekend. Elf Bernard said it is just too early to know if the workshop is on track for this year's quotas.
In Santa's mailroom they have already noticed a change, however. "The mail started coming in heavier just after the parades yesterday." Elf Hugo told me. "The kids saw Santa at the parade and that got them writing letters and sending in wishlists." Elf Hugo is working full shifts in the mailroom and is planning extra flights to get all the letters out to Santa.
Santa is, of course, out visiting with the kids right now. We're not sure where he is exactly but we know he is out there because we have seen a lot of pictures of him already on T.V.
For us, of course, in Santa's newsroom we're ready for Operation Merry Christmas 2012. We have elves positioned not only here at the North Pole but also around the world, ready to help us tell the story of Christmas 2012. Stay tuned to these pages as we bring you that news, as has been our tradition for the past 21 years. These updates come daily — or more often if required — all season long.
— Elf Ernest
https://santaupdate.com/wp-content/uploads/2023/01/newlogo23f.png
0
0
Elf Ernest
https://santaupdate.com/wp-content/uploads/2023/01/newlogo23f.png
Elf Ernest
2012-11-23 09:15:37
2012-11-23 09:15:37
Operation Merry Christmas 2012 Gets Off to a Fast Start