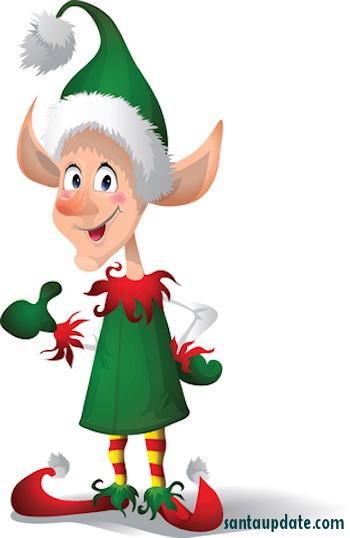 We have a Christmas decorating contest here at the North Pole every year. The elves look forward to it all year long. It is a very big deal to win the contest because everyone here takes Christmas so seriously.
This year's contest, however, wasn't decided on Thanksgiving night as usual. Santa just couldn't make a decision because so many homes were done so well this time around. He decided to wait a few days because the weather actually got rough right after Thanksgiving and he told everyone he wanted to see what displays "held up" under poor weather conditions.
Today he named a winner.
It all came down to Elf Jamie and Elf Winnie.
Elf Jamie had the help of every electrician in Santa's Workshop. Together they planned and put up more than 560,000 lights on Jamie's house. Jamie has a small house, so every inch of it was covered in lights. But it was more than just lights. She arranged the lights to make the house look like a giant Christmas wreath. From a mile away you could look at Jamie's house and see a wreath (Jamie's house is on a hillside). It was just stunning.
Elf Winnie had a stunning display too. Her lights were very different. She didn't have a single light on her house. Instead, Winnie wrapped her house to look like a present. She used colored foil and sparkles all over the house, with a huge giant bow on top of it covered with crushed candy cane and glitter. During the day, it sparkled in the sunlight. But at night it reflected every light in the neighborhood. Parts of the house were lit from underneath the shiny wrap that Winnie used and the effect was just startling.
Elf Winnie and Elf Jamie live on the same street — at both ends of the street. So to see their houses at each end really made it magical. Even Santa couldn't believe it.
Oh, before I forget, Elf Jack DID put fireworks on his house light display. And they were something to see. But they went pop, it was over and that was that.
In the end, Santa gave the trophy to Elf Winnie because her display sparked both day and night. Elf Jamie was very happy for her and said that she deserved it. (The two elves are very good friends. Elf Jamie works with the reindeer and Elf Winnie is a nurse at the North Pole Medical Center).

https://santaupdate.com/wp-content/uploads/2014/11/omc2014.png
154
556
Elf Ernest
https://santaupdate.com/wp-content/uploads/2023/01/newlogo23f.png
Elf Ernest
2014-11-30 09:14:33
2014-11-30 09:14:33
Santa Names a Winner of the Decorating Contest -- Finally!