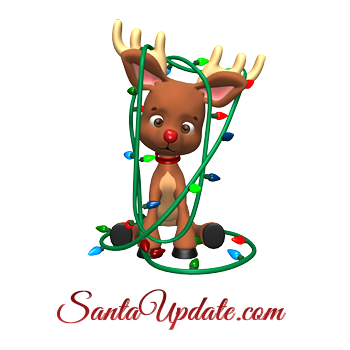 I'm such a doo-doo brain! I forgot to tell you about the Christmas Lighting Contest and who won last night.
It's part of our Thanksgiving night festivities every year. We spend hours and hours preparing our homes with Christmas lights and Christmas decorations. And there is a contest for the best decorated house.
This year's contest was won by Elf Maynard and his wife, Elf Giselle, who live over on Hollyberry Circle. They have a small home but a big yard, one with open fields all around it where there are corrals and open grazing ground for some of the reindeer.
Maynard had a big idea and we saw him digging out in those fields months ago after the reindeer left the North Pole. We had no idea what he was doing.
Last night we found out.
At first, it looked just like a regular house. Nice lights were trimmed all over the house and the bushes out front had lights on them that reflected off the snow in the yard – it was very nice. Giselle was even out there to welcome visitors with cookies and hot chocolate.
But just as Santa and Mrs. Claus walked up Giselle called out "Hit it, Maynard!" and in an instant the yard lit up with music and lights as out of the ground there popped up at least 120 Christmas trees trimmed in the shape of reindeer. There in the dark of the field at night it appeared like there was an entire flock of dancing reindeer. It was dazzling to see and the crowds roared in appreciation.
Santa awarded Maynard and Giselle on the spot, even though that had not yet seen a couple of other displays set up for the event.
The best part is that Maynard has a different show set up for each day between now and Christmas. He plays those shows three times as day, to cover the shift times of all the elves working at Santa's workshop.
Lights are no replacement for reindeer but Christmas trees shaped like reindeer in lights sure makes everyone here feel better about the reindeer.

https://santaupdate.com/wp-content/uploads/2023/01/newlogo23f.png
0
0
Elf Ernest
https://santaupdate.com/wp-content/uploads/2023/01/newlogo23f.png
Elf Ernest
2015-11-27 12:00:51
2015-11-26 18:30:26
North Pole Christmas Light Contest Winner Announced