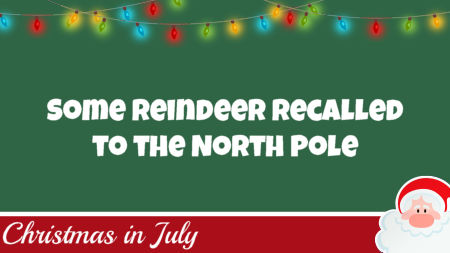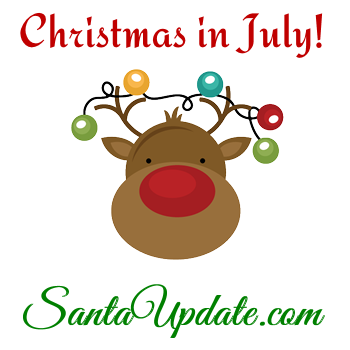 We have unsual news to report to you today: Santa has recalled four special teams of test flight reindeer to the North Pole. In talking to the elves at North Pole Flight Command this is the earliest these reindeer have returned to the North Pole.
Elf Victor, The North Pole's head elf of Reindeer Operations, confirmed that he has relayed Santa's request to reindeer ranches in South America — where it is winter for them right now. "Santa has teams of reindeer from every continent in the world," Elf Victor explained. "But he feels these South American reindeer are best equipped right now to be of service because they are already use to winter flying conditions".
That is a curious detail. It would seem to sugges that Santa or some elf test pilot will be test flying the sleigh where it is winter right now — so the sleigh could end up heading straight back to South America or perhaps even to Australia or New Zealand.
I called Elf Buck Sanchez, flight director at the North Pole, and he told me he knows of no scheduled flights yet on the books. But he did indicate he is ready to go any time Santa is.
The elves on the test pilot team are a bit worried about these break developments. Usually there is a routine and even a competition among the test pilots to see who is selected to make the first flight of the new sleigh. The elf that wins this honor is considered the best test pilot of the year at the North Pole and is given an award. But with Santa being so involved with the design and the construction of the sleigh they don't know if Santa himself might be the first to pilot the new sleigh.
So they are all really nervous.
Finally, I tried to pin Santa down on what was going on and if, indeed, we were close to the launch of the test flight of the new sleigh. Santa just shook his head and said he asked for those reindeer to come up from South America because he needed some reindeer on hand "in case of emergency".
Obviously, there is a lot more to this story and we will update you are we get a better idea of what is actually happening.



https://santaupdate.com/wp-content/uploads/2020/07/72220.jpg
253
450
Elf Ernest
https://santaupdate.com/wp-content/uploads/2023/01/newlogo23f.png
Elf Ernest
2020-07-22 01:51:10
2020-07-22 01:51:10
Some Reindeer Recalled to the North Pole