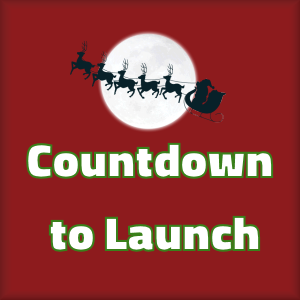 Just 75 days until Santa launches, folks!
Hi. Elf Max here, in Flight Command for SantaTrackers.net and SantaUpdate.com.
The work of preparing for Santa's launch continues. The test flights are going pretty well. They are slowly narrowing down the design of Santa's new sleigh. We don't know when the final sleigh design will be decided upon. That is a thing a lot of elves place bets on with sugar cookies in Flight Command.
It is kind of a big deal. You see, Santa's final sleigh will be the one that all the other North Pole departments will make their final plans around. The size and speed of the sleigh affect a lot of people, from the Weather guys to the flight planners to the guys in Wrapping and Packing. Everyone needs that sleigh design final so they know what to do.
But Santa is not pushing it. He wants it "just so".
75 days may sound like a long time to many of you but to those of us here at the North Pole it is not long at all.
The work of recruiting new tracker elves continues. It is going well but we're not there yet. We hope you seriously consider becoming an elf.
If you have not done it yet here are the steps:
Go to ElfHQ.com and submit your application to the Department of Elf Resources.
They will assign you a job, which right now is most likely to be as a tracker elf. It's how we all start.
Then go to SantaTrackers.net, and join the private site just for elves.
Follow the training and instruction there.
I know that's a lot of steps and a lot of paperwork. But it is necessary stuff.
By becoming an elf you get more news about Santa, his launch and his world-wide trip than any other way. You will be in the know!

https://santaupdate.com/wp-content/uploads/2020/09/100820.jpg
321
845
Elf Max
https://santaupdate.com/wp-content/uploads/2023/01/newlogo23f.png
Elf Max
2020-10-08 00:05:26
2020-09-20 12:23:37
75 Days Until Santa Launches