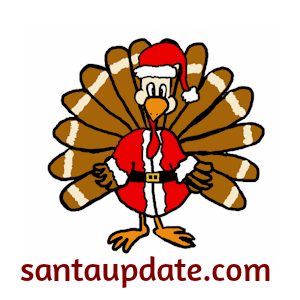 Santa travels to celebrate Thanksgiving this next week in Canada. Mrs. Claus has family in Canada and the Claus' love to celebrate Thanksgiving with them.
Thanksgiving, as you are well aware, is Santa's favorite holiday. Even if it is in Canada.
Haha. That's a joke. No real Canadians were hurt in the production of this article.
Haha. That's another joke. A good friend of mine here at the North Pole, Elf Maynard, is from Canada. I like to give him a hard time about that.
You may have noticed that Santa and Mrs. Claus frequently go to Canada to celebrate Thanksgiving in October. That's the tradition there. They love it, too.
But the fact they are traveling for Thanksgiving is a point of concern for many people. Some are worried that Santa may pick up the virus in his travels or even from visiting family. I knew this was going to come up as an issue and I wanted to make sure I talked about this correctly (no jokes). So I talked to Santa about it.
The first thing Santa wants you to know is that he is traveling by personal sleigh. Both he and Mrs. Claus have been to the doctor and they are healthy — cleared to travel. But that's not even the most important thing Santa wants you to know.
"I know this virus is a bad thing," Santa said. "We have to be careful. Everyone has to be careful. But there is no reason for healthy people to stay away from healthy people. We have not seen this part of our family for a long, long time. Thanksgiving is a great reason to do it. As long as everyone is healthy, we're doing it. We will be careful."
Santa and Mrs. Claus plan to get tested when they return to the North Pole too. I'm not sure when that is yet, by the way. I'm hearing rumors Santa might have a few other places to go after Thanksgiving. We will keep you posted.

https://santaupdate.com/wp-content/uploads/2020/09/100620.jpg
320
845
Elf Ernest
https://santaupdate.com/wp-content/uploads/2023/01/newlogo23f.png
Elf Ernest
2020-10-06 00:56:02
2020-09-20 12:07:43
Santa Travels to Celebrate Thanksgiving