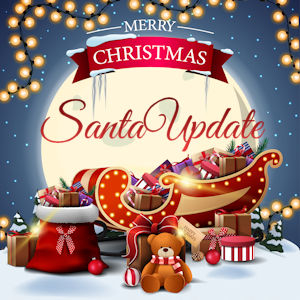 Just 1 month until Christmas, folks – Christmas Eve is just a month away! Do you know what you will be doing on Christmas Eve?
We know what we will be doing and we're just so doggone excited. In fact, with the return of the reindeer to the North Pole this week it seems we've gone into full Christmas mode a little early. Everywhere you go here at the North Pole you run into the Christmas spirit.
Santa has taken to calling this "Spirit week", in fact. We were talking a little bit yesterday about how much people are decorating right now and all the baking going on and getting their trikes ready for the Thanksgiving Day elf parade — so very many happy activities are going on.
Santa says he is in the spirit too and he hopes that as many people as possible can join him tomorrow night in the North Pole Chat room so that he can feel of your Christmas Spirit. Santa says he can't wait for that chat tomorrow night!
He also told me that plans are very quickly falling in place for the Reindeer Games. The reindeer were so late in returning this year that they have not had time to really plan that event, which is very popular with nearly every one here at the North Pole.
The elves in the Reindeer Department have wasted no time in getting all the reindeer in for evaluations with both the trainers and the medical staff. Reindeer are already in training, despite the weather, and even some of them have expressed urgent interest in when the games might begin.
Speaking of the weather, Elf Seymour Snow is spending a lot time of doing interviews on North Pole radio and television these days. Today the North Pole is experiencing the 30th consecutive day of heavy snowfall. We have several feet of snow on the ground and a lot more of the white stuff in the forecast for this week.
In a meeting of North Pole department heads yesterday it was discussed about whether the weather would impact all the outdoor activities planned for this week. There was almost universal agreement that the activities should go forward despite the weather.
Crews are already out working the streets, especially the areas of the parade route to try an keep those areas as free of snow as they can possibly make them. Elves Crash Murphy and Frank Myrrh talk about the weather and the parade in their latest news radio report (click on the player below to hear it).
When Santa and I spoke yesterday we talked about that, too. Santa just brushed away any concerns. "We are at the North Pole," Santa said. "We are used to snow. We live with it all year. Everyone will just have to have hats and gloves and goggles and bundle up real well. Plus, we'll have hot cocoa. What more do we need."
This crazy year of 2020 has developed a kind of "can-do" attitude about everything here at the North Pole. That was kind of the tone with the big senior elf meeting yesterday with Santa. Our Operation Merry Christmas begins on Friday, which this year falls less than a month before Santa launches. Operation Merry Christmas is all about getting Santa around the world. That's our goal.
So we discussed where we stood with that goal, from production in Santa's workshop to the reindeer to the readiness of Santa's sleigh. We talked about it all and everything we have to do before launch day, which is 29 days from today. There are many things to accomplish and my part in that effort is making sure YOU know what's going on here.
Every other department is focused on those 29 days but really, here in the Public Relations Department and in the News Department, our work of Operation Merry Christmas is not only right now but also AFTER Santa launches. In fact, our biggest responsibility is getting news to you and the largest part of that is news of Santa as he travels around the world. So we're hard at work already.
It is going to be fun, as it is every year. We hope you are here to experience it with us. We hope that you will make use of the North Pole Post Office to ask questions as we go along. We hope you will listen to the North Pole Podcast and to Kringle Radio as we celebrate the season. We hope to share our Christmas spirit with you and that you will share yours with us!

https://santaupdate.com/wp-content/uploads/2020/11/112420.jpg
321
845
Elf Ernest
https://santaupdate.com/wp-content/uploads/2023/01/newlogo23f.png
Elf Ernest
2020-11-24 06:07:13
2020-11-24 06:07:13
1 Month Until Christmas