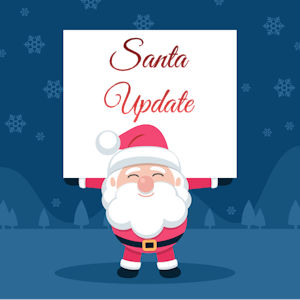 Santa Claus has expressed a desire to have more tracker elves this year. This is interesting to note because over at SantaTrackers.net  it appears the 39 million mark has been passed, inching ever closer to the goal that Santa set last summer of having 40 million total tracker elves.
"We have more tracker elves right now than we ever have had in history," said Elf Roger Star, International Director of Tracker Elves. "We know we will meet our goal and if everything stays as it is right now, we'll be at more than 43 million total by the time Santa launches."
And yet Santa told me yesterday "it would be nice" if there were even more.
The idea of trackers tracking Santa for Santa is one most people don't think about. But it makes sense. Millions of trackers located all over the world give Santa an instant view of the world in real time when he flies on Christmas Eve.
If he wants to know the condition of things in any given neighborhood he only needs to have North Pole Flight Command reach out to local tracker elves to give him updated information.
"It is a simple idea and it is brilliant," Elf Roger said. "And it's a win-win. All these tracker elves — these are true believers who hang their stockings every year — and they are looking out for Santa, helping to keep him safe, so that he can come fill their stockings, well, it's a beautiful idea."
Santa mentioned the desire to have more tracker elves in answer questions about a Tracker Elf Conference scheduled for this weekend. Santa wants to make sure tracker elves know why he needs them and how to actually track Santa.
What do you do if you're new to all this and want to help Santa by becoming a tracker elf? Here are the steps you need to take:
Go to ElfHQ.com and sign up to become an elf. You'll need to learn the Elf Code and to take the Elf Oath.
After that is done, then you can go to SantaTrackers.net to become a Tracker Elf. You will be given training and a work schedule for this Christmas.
Stay tuned to this site, NorthPoleFlightCommand.com and SantaTrackers.net on Christmas Eve. Wait for instructions from your Elf Supervisor.
Help Santa get around the world on Christmas.
And that's it. There are a variety of tools on every site to help do all this. And there is plenty of time to learn it all.
By all means, don't forget to come to the scheduled chats for Tracker Elves this weekend.
Below is a brief radio news report about the conference that you can listen to.

https://santaupdate.com/wp-content/uploads/2020/12/120920.jpg
320
845
Elf Ernest
https://santaupdate.com/wp-content/uploads/2023/01/newlogo23f.png
Elf Ernest
2020-12-09 01:11:07
2020-12-08 23:21:06
Santa Asks for More Tracker Elves