Ten weeks remain until Christmas! And we're turning the corner to the single digits in our weekly countdown. Can you believe it?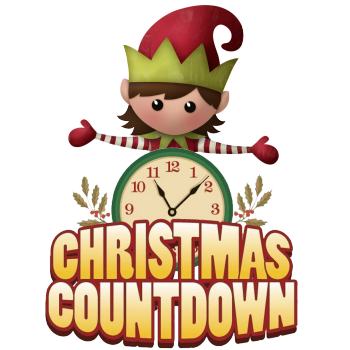 Halloween is on the mind of everyone around here at the North Pole. As you know, it is a huge event.
I don't know why but some are wondering about the date. Halloween is on October 31st, which this year falls on a Monday. Some think the celebration should happen on a weekend day and for whatever reason, because Halloween is on a Monday this year, a few elves just assumed the North Pole celebration of Halloween would be on Saturday or Sunday.
It was talked about so much that some people started to BELIEVE it was on one of those weekend days. The Halloween Committee even went to Santa about the issue and Santa said, "It's on the 31st, like it is every year. It doesn't change. On my calendar, that's Monday this year. That's when I'll be in costume!"
Well, that's a school night. Even at the North Pole. All of our schools are open and operating normally that week. Parents are concerned that their children will be up late eating too much candy on Halloween this year.
Is this being talked about where you are?
Mrs. Claus even piped in and she support the traditional celebration of Halloween on October 31st as well. "We will have that whole weekend to work on our costumes and to prepare for the North Pole Halloween Party," she said. "Who wouldn't love that perfect arrangement?"
Elves, of course, love Halloween.
It's because of the whole costume thing. They love the candy and the trick-or-treating, sure. But dressing up is a big deal just about every elf goes all out for. I've never seen another place in the world like the North Pole when it comes to Halloween costumes.
The costumes are made so elaborate that it seems part of the game is to hide the real identity of the person inside of the costume. All my life I've celebrated Halloween but usually I can tell when someone I know is inside of a costume. I have a brother, Gary, who loved superheroes and every Halloween he would dress up as Superman or Captain America or Batman or whichever superhero he was liking that year. He would always have a great costume but no matter who he dressed up as you always knew that was Gary.
It's a little different at the North Pole.
Here when someone does a costume it not only has to be really fancy but it also has to hide who the person is. Most of the time when you go to the North Pole Halloween Party you can't tell who is who. That makes the Halloween Party really interesting. It's fun to guess who each person is that dressed up.
The costumes are crazy good. In fact, elves spend months and weeks making very fancy costumes. The stores here do not even sell costumes and if they did the elves would not buy them. A self respecting elf would never buy a Halloween costume. They take all this very seriously and the level that Halloween costumes go to are so extreme at the North Pole.
I didn't understand all this the first year I was at the North Pole at Halloween. I was busy with school and stuff and did not put much effort into my costume. I was a witch and it did not take me long to throw that costume together.
I ended up feeling so embarrassed. Everyone instantly knew it was me! So I had to learn a lot about Halloween at the North Pole. If you are going to participate you need to really put some time and thought into it.
Today, over at the Rec Center, there is a class called "Wiring Your Halloween Costume". Sign-ups for that class began at Easter – I kid you not! – and it's been full for months. You see, elves like to use lights and mechanized elements in their Halloween costumes. It's like the decorating contest for the houses with their Christmas lights and stuff – they all get into doing costumes with crazy stuff that requires power.
That's why its impossible to find batteries at the store the week before Halloween. Every year they run out.
Elf Franny – a dear friend who works the fudge line – had a costume last year that was crazy good. She was a robot. She built a 7-foot tall robot and climbed inside of it, where she had all these electronic controls where she made the robot do things. There were lights and buttons all over her costume and each one of them either meant something or did something. All night long at the party people were coming up to press her buttons just to see what would happen.
She had a big button on her back that flashed and said "Don't press this button!". So, of course, everyone tried to press that button. When they did, they got squirted in the eye with an embedded squirt gun. Not only that, when they pressed the button a little flag popped up on the back of the robot's helmet that said, "I told you not to do that!"
Tricks, you see, are also a very big thing at Halloween at the North Pole. The more you can prank another elf as part of Halloween the better you seem to be doing it. All kinds of costumes have built in "tricks".
Franny was very popular at the Halloween Party last year.
But she did not win the big costume contest. Nobody knew it was Franny inside the robot, so nobody knew to vote for Franny. They could only vote for "Robot" in the contest. She came in third place, if you can believe that.
I know that even since Halloween is on a Monday this year it's going to be an epic event. Everyone gets out of school and work a little early and the party actually begins in the late afternoon. Yes, it will be dark by the time it's done and, because it is the North Pole, it will likely be snowing outside. That's why a party is held for trick-or-treating here at the North Pole. It's always had to be held inside.
But people here like it that way. It has been this way forever it seems at the North Pole.
Anyways, I have a plan this year for Halloween and my costume. Maybe next week I'll tell you about it. What are YOU going to be for Halloween?

https://santaupdate.com/wp-content/uploads/2022/10/101522.png
321
845
Elf Trixie
https://santaupdate.com/wp-content/uploads/2023/01/newlogo23f.png
Elf Trixie
2022-10-15 09:43:55
2022-10-15 09:43:55
Ten Weeks Until Christmas