Operation Merry Christmas is underway. Santa declared the start of Operation Merry Christmas in a brief ceremony at the Workshop early this morning. Radio coverage of the event can be heard in the player above.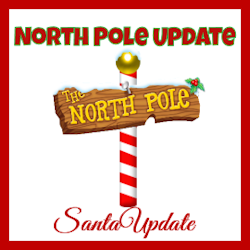 Perhaps the first thing I should tell you is that the next 29 days are going to go very quickly. It always seems to zoom by.
There is much work to be done to get Santa in the air on Christmas Eve.
For Santa's Workshop, things need to wrap up before Santa takes off. That means you have a part to play in this. If Santa does not know what to bring you the workshop does not know what to make. So, in order to help Santa launch on time, you need to send Santa a wish list.
Do not think for a minute that is all there is to it.
In order for Santa to fly, he needs to know you are ready. That means your tree is up and your stocking is hung.
Operation Merry Christmas also means Santa needs some other things, too. Like a sleigh to deliver in. As is tradition, the Research and Development Department has designed and built for Santa an all new sleigh to take this year. That sleigh is being tested right now. You can read about that and how it is going over at NorthPoleFlightCommand.com.
Of course, to pull the sleigh Santa will need his reindeer ready to go. For them, a special part of their training for the big day is the Reindeer Games. They are scheduled to begin next week. We will provide news reports of those events.
Elves everywhere around the world are working for Santa right now in many ways. In the North Pole Post Office, there are elves handling the mail for Santa. In the Wrapping Department, there are elves wrapping things for Santa to deliver. In Flight Command there are elves planning Santa's flight. And around the world there are an army of elves known as Tracker Elves who track Santa for Santa.
Tracker Elves help Flight Command and Santa to know what conditions are in towns, cities and neighborhoods all over the world.
Operation Merry Christmas is one busy time and my little report here does not go far enough in telling you all the work that all the elves and all the reindeer are doing in support of Santa.
There will be 29 days now for us to tell that story.
We hope you check in each day as we try to tell it.

https://santaupdate.com/wp-content/uploads/2022/11/112522.png
320
845
Elf Ernest
https://santaupdate.com/wp-content/uploads/2023/01/newlogo23f.png
Elf Ernest
2022-11-25 01:38:55
2022-11-25 01:35:58
Operation Merry Christmas Begins