Hi gang! Just 34 weeks left now until Christmas. It's just around the corner.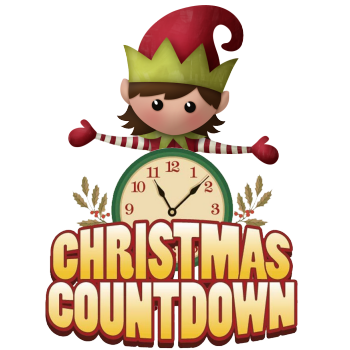 Ok, not really. We have a long summer ahead of us. Even still, we're almost done with the 30s and that for me is the longest part of our countdown.
Well. Now I can tell you some things I could not tell you before.
First of all, Mrs. Claus. She's very relieved. She was almost a bear for a while there. I don't blame her. She warned me that the first month Santa would be gone would be hard on her. And it was.
But, since he finally contacted her, she's been more herself. Nowhere near as anxious and worried.
Poor dear. I love her so.
Santa sent her a letter via the North Pole Post Office. Actually, he sent himself a letter and Mrs. Claus got it. You see, Mrs. Claus is handling all of Santa's mail via her office. They bring in letters every day – and the computer sends us messages here too. Santa's regular office staff is working here with us since they know how to handle all of Santa's mail.
But don't you think that is sneaky of Santa?
He reached Mrs. Claus by sending a letter to himself! What a genius!
Anyways. Mrs. Claus, who has been tending to Santa's mail religiously, I bet was LOOKING for a letter to him by him. I think that was their plan.
Mrs. Claus has told me several times that the elves working from so many departments at the North Pole will be very lucky to catch up with Santa.
Still, she's quite impressed with their efforts so far.
Mrs. Claus does not know where Santa is. Her not knowing is part of their little plan. Santa and Mrs. Claus know that Elf Agent X in North Pole Security will do almost anything to get new information. That dude or one of his little stoolies are here almost every day snooping around for information. That's why Mrs. Claus tries NOT to know much about where Santa exactly is.
She does, however, share what information Santa gives her. She's not holding back and she is not going to lie about what she knows.
Anyways. The search for Santa is a big deal and it's going go on for a while.
Life at the North Pole and our work of Operation Merry Christmas goes on despite all the search efforts. In reading the mail coming in Mrs. Claus says some of you are really concerned about things getting ready for Christmas.
It's too early though to be concerned about anything. Santa's workshop is going every day. The North Pole continues to stockpile supplies and materials needed. The work of Santa's sleigh continues and from what Mrs. Claus can tell everything is going as planned by Santa way back at the first of the year.
Mrs. Claus – and me – do not plan on any vacations any time soon. But she has been talking about taking a visit to a little cabin she and Santa like to go to up in the Canadian Rockies. Santa likes to get away there during their summer months to do a little fishing and she likes the wild flowers there. She has invited me to take a weekend away with her soon for a "girl's weekend" away.
I kind of look forward to that.
Do you have any plans? I know many of you are getting out of school soon or planning vacations. I'd love to hear about them.
Until next time.

https://santaupdate.com/wp-content/uploads/2023/04/043023.png
321
845
Elf Trixie
https://santaupdate.com/wp-content/uploads/2023/01/newlogo23f.png
Elf Trixie
2023-04-30 00:01:08
2023-04-29 20:51:35
34 Weeks Until Christmas