A raucous Halloween Party has kicked off the Christmas season in style at the North Pole. Nearly every North Pole resident attended the party, including Santa and Mrs. Claus.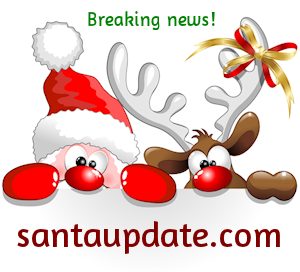 The event was the first time Santa has been involved in a public celebration at the North Pole since last spring. Santa has been gone most of the year on walkabout.
Santa and Mrs. Claus made a spectacular entrance to the party by zip lining through the open sunroof panels of the North Pole Events Center. Santa's workshop installed the line from bank building downtown so Santa and Mrs. Claus could make their entrance dressed as Peter Pan and Wendy, respectively.
The evening featured live music, dancing, and games such as limbo and bobbing for apples. But the signature event, as always, was the Halloween Costume contest and as usual most elves went all out for it.
Elf Hallie Simpson, a seamstress in the Uniforms Department, won with her elegant princess dress of changing colors. The dress featured a musical soundtrack that change the color of the dress according to the beat of the music. It was a stunning outfit that drew rave reviews.
Fortunately, Elf Hallie was able to escape the hall before the start of the annual elf food fight, which Santa stayed for and participated in. Santa held his own in the early going but was overcome by a coordinated Twinkie attach by the girls in the Wrapping Department, led by Elf Harriet Bow.
The food fight was quite short this year, lasting only about 15 minutes. Clean-up took 4 hours and representative elves of every department pitching in.
Santa declared the party a big success and thanked the elves of Mrs. Claus' staff and the Halloween Party Committee for their efforts in pulling it off.
For more information about the party, please listen to the North Pole Radio News report in the player above.


https://santaupdate.com/wp-content/uploads/2023/10/110123b.png
320
845
Elf Harold Star
https://santaupdate.com/wp-content/uploads/2023/01/newlogo23f.png
Elf Harold Star
2023-11-01 00:01:13
2023-10-30 20:43:46
Raucous Halloween Party Kicks Off Christmas