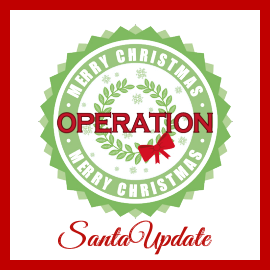 Extra! Extra! Read all about it! Operation Merry Christmas begins in 4 weeks!
That's right. Time to get excited, everybody! Imagine it: in just four short weeks we'll be getting DAILY updates from the North Pole as the countdown to Christmas gets really, really, really, really, really, really serious. Really.
Oh, I got my costume. But I can't tell you about it until next week. AFTER the party. AFTER I've won the contest. I just know I'm gonna win. It's such a sweet costume. I can't WAIT!!!!!
Anyway.
Back to business.
Some of you are asking when my next interview will be with Mrs. Claus. In fact, the questions you are sending in are coming in faster than we can plan interviews.
But here's the poop on this interviewing Mrs. C thing: it ain't happening this week.
She's up to her eyeballs in cupcakes and frosting. Seriously.
She is in that kitchen with a crew of chefs and cupcake artists and everything and they aren't letting up. I have been to this North Pole Halloween Party before and I have to tell you — it's a blast. But the WORK Mrs. C puts into it has to be seen to be believed.
She very politely told me there can be no interview this week. But next week, I promise — and she promises — we'll get to it.
Now, back to Operation Merry Christmas.
Where are the flippin' reindeer?
I'm starting to get a bit perturbed about this. They are supposed to be back, doggone it.
We have snow up the ying-yang and we have no reindeer here to see in the pretty snow. There are no reindeer — well, besides a few — to pull the sleighs. And there are no baby reindeer here to cuddle with and to give my name to. I wanna see Trixie!
Maybe I'll go over to that Reindeer Barn place and have a word with that Elf Victor guy. He's in charge of the reindeer and I think he needs to start ordering them around.
Anyway.
Have you been following the Santa Tracker thingy over at SantaTrackers.net? I got my start as an elf over there and while I love to track Santa I wasn't very good at it, I don't think. But this year they are doing some cool stuff. Like Elf Training. Where was that when I was a new elf?
Anyways, if you're thinking of becoming an elf that's the place to start. First, go over to ElfHQ.com and register as an elf. Take the Oath and learn the Code…you know, do all the regular stuff that the Department of Elf Resources makes you do.
By the way, I know some of the girls in Elf Resources and they are a HOOT. They will help you get going, trust me on this.
Anyways. Check out that SantaTrackers.net thing. There is gonna be a huge bunch of new elves joining up in the next month or two and the earlier you get there and signed up the sooner you can be ready to track Santa this year.
Oh, by the ways— are you listening to the North Pole Radio News guys? I'm kinda crushing on one of them these days. Not that I'd ever tell him — or tell you who he is. Those news guys never look like what they sound like on the radio. I'm just sayin'.
Maybe someday I can be on the radio. That would be cool. A girl can dream.

https://santaupdate.com/wp-content/uploads/2020/10/103020.jpg
321
845
Elf Trixie
https://santaupdate.com/wp-content/uploads/2023/01/newlogo23f.png
Elf Trixie
2020-10-30 00:02:17
2020-10-29 21:50:33
Operation Merry Christmas Begins in 4 Weeks