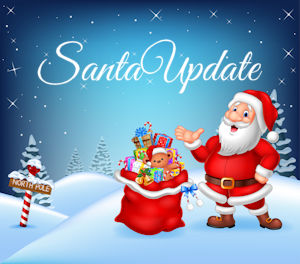 Last night during a chat in the North Pole Chat room Santa was surprised to learn that we had not yet activated Kringle Radio on SantaUpdate.com. I later explained to him that Kringle Radio customarily does not debut on SantaUpdate.com until about a week before launch.
Santa feels that given the issues of 2020 that getting great Christmas music out there coupled with world-class North Pole Radio News is a necessity. So now when you visit SantaUpdate.com a radio player automatically shows in the footer of the site, with complete controls.
As a reminder, Kringle Radio is commercial free.
Also as a reminder, Kringle Radio is where the world-famous Tracking Santa around the World radio broadcast is aired beginning on Dec 23rd/24th as Christmas Eve dawns at the International Dateline.
This famous radio broadcast features North Pole Radio News that tracks Santa every fifteen minutes.
The news not only gives Santa's present position as he flies but also features elf news reporters stationed all over the world interviewing individuals who have seen Santa, his sleigh or his reindeer.
The program runs for more than 2 days as Santa makes his way around the world.
That radio news coverage is supplemented by maps, flight data and news reports posted here at Santa Update.com.
Additional features of our worldwide coverage can also be found at NorthPoleFlightCommand.com, TrackingSanta.net and SantaTrackers.net.
This is not fake news that you will find at weather channels, government or military websites or from search engines. This is the actual news from Santa himself — it is timely, accurate and fun.
It is a continuation of North Pole News that has been shared every Christmas since 1991.
So this is all kind of a big deal. It's out there to simply wish you a Merry Christmas.

https://santaupdate.com/wp-content/uploads/2020/11/112920a-1.jpg
320
845
Elf Ernest
https://santaupdate.com/wp-content/uploads/2023/01/newlogo23f.png
Elf Ernest
2020-11-29 12:09:25
2020-11-29 12:10:19
Santa Restores Kringle Radio to SantaUpdate