The Reindeer Games began at the North Pole today and already we have a surprise: Vixen is off to a fast start. Vixen, who has been on Santa's team for decades, does not traditionally rank well at the games, mostly due to her smaller size. But Santa has told us many times that she is a fighter and today she showed that with style.
The first day of the games is all about preliminary foot races that help to class the reindeer according to their abilities. With so many reindeer wanting to compete the early races usually feature a full field and only the top four finishers of each race move on the next round. We got in about five rounds today and in each race that featured Vixen she surprised with her speed and agility.
Just because Vixen is not a frequent winner of these games is no need to discount her. She's been on Santa's team for years and that means she is a far more superior athlete than many people realize. And while Vixen says she does not care for the games she showed up here at the North Pole this year in excellent condition and ready to race. While there are other reindeer who are faster on Santa's team, Vixen for whatever reason came to these games ready to surprise and she sure did.
She won all five of the races she was in and the first three were not even close. But it was her last race that everyone is talking about. She beat Blitzen. That's is VERY unusual because Blitzen, who is the largest reindeer at the North Pole by far just doesn't lose. But he got beat today and Vixen let him hear about it. Something was said between the two before the race began and once it started it was like there were no other reindeer out there. They sprinted out the gate and stayed neck and neck to the end of the run when Vixen defeated him by just a nose at the finish line.
For a preliminary race it was very fast and Vixen, in fact, broke her own personal speed record in the race.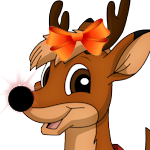 The race has been shown over and over on North Pole News 13 TV and it is all that elves are talking about today. Many elves have never seen Vixen win these games before (it's been about 40 years since she last took the championship) so many are now betting on Vixen to win.
These games will go on for several days and there are many events yet to come. I personally think it is too early to say who is the favorite or who should be counted out. Vixen's best event is in flight, she's actually a flight instructor for younger reindeer, so we know she will perform well. Where she will be especially challenged will be in the pull events. She's smaller and lighter and will just be outmatched against the likes of Blitzen and Donner. So we'll see.
The work of Santa and Operation Merry Christmas continues. Every department is very busy. But when elves get off their various shifts they either come out to the games (the weather is lousy) or they watch them on local television some where. With today's surprise events it is expected to be very crowded at the game over the upcoming weekend.
We did have a North Pole Radio News report today early in the competition and in the report, which you can hear below, Frank and Crash talk a little about new and unknown reindeer who are competing in the games.
Stick with us. We'll give you all the news of the games over the next several days.

https://santaupdate.com/wp-content/uploads/2020/12/120420.jpg
320
845
Elf Ernest
https://santaupdate.com/wp-content/uploads/2023/01/newlogo23f.png
Elf Ernest
2020-12-04 02:02:21
2020-12-03 23:22:13
Vixen Surprises at the Reindeer Games