You can participate in this year's Elf Parade for the first time ever. The Annual Elf Parade is held on Thanksgiving Day at the North Pole. It is an event that draws huge crowds in North Pole Village as well as lots of big questions online.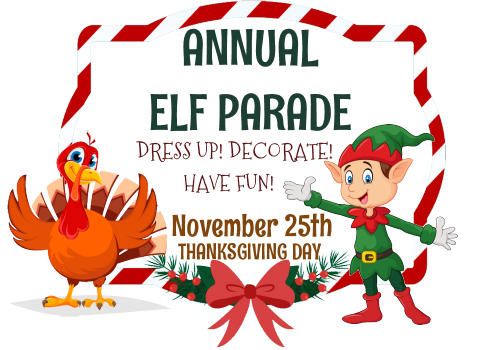 We always get asked why the Elves have a parade and why the parade cannot be seen on television or online. So many fans of Santa want to be included in the parade in some way.
There are many parts to the parade. There is the March of the Reindeer, the North Pole High School Marching Band, and, of course, the big favorite the Elf Trike Showcase, a huge procession of elves who ride big tricycles decorated for Christmas. The Elf Parade precedes the big Thanksgiving Day luncheon at the North Pole Activities Center which is followed by Santa's Walk-about, an event where everyone walks the streets of North Pole Village to see the homes of those who participate in the big Christmas lighting contest.
We do offer North Pole Radio News coverage of the elf parade. Here is the report Elves Frank and Crash offered last year during a very snowy parade event:
The Elf Parade is in the planning stages right now.
During a meeting with elves from the North Pole Tracking Department it was mentioned that a number of elves who do not live at the North Pole would like to somehow be included. (They were specifically talking about the elves who work through SantaTrackers.net, tracker elves tracking Santa for Santa).
Both Santa and Mrs. Claus were in attendance at this meeting. It was Mrs. Claus who spoke up first. She felt we needed to find creative ways to include those elves somehow.
Santa agreed, but he took the discussion one level further. "Wouldn't it be fun if we can get believers everywhere to participate?" Santa said. "Thanksgiving is a tradition for a lot of people and they do more than just eat. Many like to decorate. Many put up their Christmas tree. Why not have those out there who want to join in decorate their own trike or bike? Why not let them dress up and send in pictures having their fun? Why not hold a contest of some sort? There's all kinds of things we can do to celebrate the kick of the Christmas season together!"
Santa's comments ignited a flurry of ideas. We are, right now, making big plans for the Worldwide Elf Parade.
Details on what we will be doing will be coming out soon.
I just wanted to announce it to you today. It will be a new tradition for us. It will be a way for us to share something fun together. There is, as always, never a cost involved. This is just for fun. But be thinking about what you can do. With your creative thoughts, and maybe a cell phone or digital camera, you can share your part in the Elf Parade with everyone here.
Stand by for more details coming soon via the North Pole Podcast, North Pole Radio News, SantaUpdate.com and SantaTrackers.net.

https://santaupdate.com/wp-content/uploads/2021/08/82821.jpg
320
845
Elf Ernest
https://santaupdate.com/wp-content/uploads/2023/01/newlogo23f.png
Elf Ernest
2021-08-28 16:29:23
2021-08-28 16:29:23
You Can Participate in This Year's Elf Parade