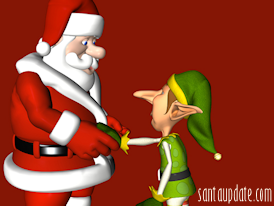 There's a rowdy bunch back in the house — all the elves have returned from the annual Elf Convention. They are rested, motivated and ready to work hard for Operation Merry Christmas 2013.
Operation Merry Christmas, as you know, kicks off next month as the final countdown period leading up to Christmas. At that time we begin daily updates from the North Pole, our 23rd season of offering news, information and the story behind the Santa effort. This will be our biggest year ever.
Up first on the calendar is the Annual Halloween Party at the North Pole. This fun event is the last really big party of the year before our Christmas Eve party. We'll bring you news of the costumes, games and activities (including the annual food fight) that comes from the celebration of Halloween at the North Pole.
Right after that, it's all business. In fact, pay very close attention to SantaUpdate.com right after Halloween. There are big announcements in the works and you're won't want to miss it.
All of this is happening very quickly. As Santa welcomed the elves back to work today he handed out candy canes and shook the hand of each elf, giving them a pat on the back and encouraging them to work hard in the weeks ahead.
Elf Bernard already has double shifts going in the workshop. He told me that he isn't taking any chances this year because "more of the world will be watching this year than ever" and he doesn't want to make them nervous.
We have big news coming from the Tracking Department, from Research and Development about Santa's sleigh this year, and from Elf Victor and the crew working Santa's Stables about the reindeer.

https://santaupdate.com/wp-content/uploads/2023/01/newlogo23f.png
0
0
Elf Ernest
https://santaupdate.com/wp-content/uploads/2023/01/newlogo23f.png
Elf Ernest
2013-10-21 06:51:30
2013-10-19 07:09:42
Elves Return from Elf Convention Fired Up for Christmas