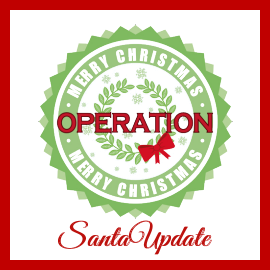 Operation Merry Christmas begins in just 4 days, gang. Is that crazy stuff or what?
I'll tell you what, after the return of the reindeer this weekend the North Pole is a new place. It seriously feels like Christmas Eve. Everyone is SO excited. And, it seems, everyone is also super super busy.
The Elf Parade on Thursday is now getting a lot more attention because the reindeer are back. I guess last year or the year before there was something that happened and someone said the reindeer could not be in the parade. Some feelings got hurt and it was a big misunderstanding. They worked it all out and the reindeer got into the parade. But no one wants to make that mistake again.
Anyway.
We learned that the reindeer say they have been working on something really special for the parade. They really want to be in it — well, at least some of them do. A lot of them is what I hear.
Anyway, of course everyone wants them in the parade so they are re-arranging things big time for this parade.
We're not really sure what to expect because the weather ALL week is supposed to be just terrible. Falling snow, day and night, blowing snow at times. This is really weird for November but it is the North Pole after all. Some are expressing their doubts about the parade. But not the reindeer. Snow doesn't affect them at all. Lucky.
Anyway.
If you missed the chat with Mrs. Claus on Saturday you missed something really sweet. I was right there beside her the whole time but honestly, she didn't need me. She did all the typing herself and she did great. In fact, the chat was so fun and so popular that she has been scheduled to do it again. Try not to miss this next chat. I am not sure if she will have  a chance to do another one before Christmas this year.
She came out of that chat really excited. She said it was so fun to do! So I'm hoping we get her back to do it again.
Anyway. There are some other people coming to chat too this season. So keep an eye on the schedule.
There is a news radio report to share today too. I'm going to post it below so you can listen to it.
Just a few days left!

https://santaupdate.com/wp-content/uploads/2020/11/112320a.jpg
321
845
Elf Trixie
https://santaupdate.com/wp-content/uploads/2023/01/newlogo23f.png
Elf Trixie
2020-11-23 06:30:55
2020-11-23 06:25:32
Operation Merry Christmas Begins in 4 Days