The annual Reindeer Games have started at the North Pole. A brief opening ceremony was held before a small crowd this year. Most elves and their families are so engaged with their elf work that they are watching the games via North Pole TV or listening via radio.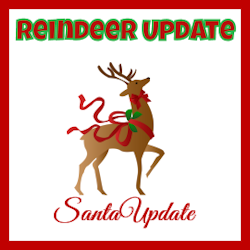 Many have asked why these games are not televised world wide like the Olympics are and that is because Santa forbids it. The North Pole has been approached many times about it and Santa always says "no".
That is because these games are all about getting the reindeer ready for Santa's flight. It is actually very serious business.
Many people do not realize that Santa uses thousands and thousands of reindeer every year – not just the ones that pull his sleigh. Thousands of reindeer are needed to support the Operations of the North Pole that we call Operation Merry Christmas.
Operation Merry Christmas is the delivery phase of Santa's mission. In order for Santa to get around the world he needs thousands of sleighs to haul freight, move around elves, to scout locations and to track the weather. Those sleighs all need flying reindeer to pull them.
The Reindeer Games gives Santa's Reindeer Operations Department a chance to see how reindeer skills have grown or changed since last Christmas. The games are a way of helping them assign the reindeer to the right place to be on Christmas Eve. Some teams need to be really fast, while other teams need to be very strong.
The games give the reindeer elves a means of grading each reindeer on what they do best so they can be placed on a team where they can do the most good.
Santa does not want the Reindeer Games to become a spectacle. By putting it all on worldwide television you would have to deal with interviews, commercials and other stuff associated with television that Santa does not believe is good for the reindeer or the Christmas effort.
Still, elves at the North Pole really like following the reindeer games. Most have personal reindeer and personal sleighs. They understand how reindeer can be and they always enjoy their personalities.
Usually, one of Santa's 9 reindeer wins the games. Usually. They are the very best reindeer in the world.
As the North Pole Radio News report above says it appears Donner is favored to win the games this year.
We will see!

https://santaupdate.com/wp-content/uploads/2022/11/112822.png
320
845
Elf Harold Star
https://santaupdate.com/wp-content/uploads/2023/01/newlogo23f.png
Elf Harold Star
2022-11-28 00:02:03
2022-11-26 11:21:09
Reindeer Games Begin