North Pole Flight Command issued a strange announcement today as they took the Santa Tracker Map at SantaTrackers.net dark for the first time since test flights began last July. Please refer to the North Pole Radio News report above for more details.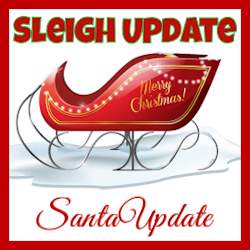 Tracker elves were informed without noticed by Elf Roger Star, International Director of Santa Trackers. Elf Roger issued a challenge to trackers as they head into the last four days before Santa's flight. He said:
"We challenge our tracker elves, between now and when Santa himself launches, to find and photograph or video any of these sleighs in flight over the next four days. Any elf who can post photographic evidence that is confirmed by North Pole Flight Command will be awarded 25,000 points by Santa himself."
Roger explained that the 12th and final version of Santa's sleigh will be tested with 12 sleighs, putting two or more in flight in each sector, but only at night, over the next four days. Any tracker that can spot and post evidence of any of these test flights will be given "points", which improve a tracker elf's standing.
Do you realize what all this means?
Think about it. You've got 12 sleighs flying these test flights. There are also thousands of sleighs scheduled for launch later this week in a special effort they call "Operation Air Lift". These are thousands of sleighs, mostly freighters, that support Santa's efforts once he launches. Then you've got Santa himself launching late on Friday, December 23rd.
This all means it will be THE week to see a flying sleigh in the skies over where you live. Anyone anywhere in the world has a great chance of seeing flying reindeer, flying sleighs and a flying Santa THIS WEEK.
I don't know how you feel about it, but I'm pretty excited.

https://santaupdate.com/wp-content/uploads/2022/12/121822a.png
321
845
Elf Harold Star
https://santaupdate.com/wp-content/uploads/2023/01/newlogo23f.png
Elf Harold Star
2022-12-18 16:41:06
2022-12-18 16:37:43
Trackers Getting Ready