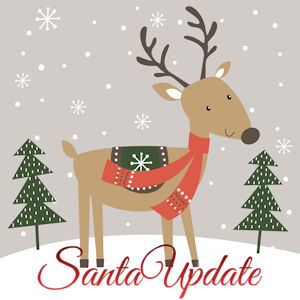 Santa visits the reindeer ranches this week after spending a nice Thanksgiving day in Canada with family. The reindeer ranches are in locations that the North Pole generally does not publicize.
It is believed Santa and Mrs. Claus are stopping off at a reindeer ranch located somewhere in the Canadian Rockies. From there we are told they will head towards South America where another ranch is located. After that it is off to Norway, then Austria and finally into Mongolia. It is anticipated that Santa and Mrs. Claus should return to the North Pole perhaps this weekend.
This is the first traveling the Claus' have done since Santa returned abruptly from his walk-about last Spring. While they hope to see plenty of the reindeer it is doubtful they will be visiting with many people.
Santa's reindeer have been something of a point of worry so far this year for many at the North Pole. They are all usually back by this time of the year. There is never a set day or time that the reindeer come home. Santa always leaves it up to them.
Santa is not concerned if they will be ready for Christmas. He insists that they will be ready no matter when they return to the North Pole.
Even still, the reindeer not being home has been bothering many elves here at the North Pole. One elf the other day said, "It doesn't yet feel like Christmas without the reindeer".
You see, it should feel like Christmas at the North Pole. We have snow on the ground and the weather is pretty cold now. Every department at the North Pole is working full blast to get ready for Christmas.
I think the big thing is that 2020 has already been a hard enough year that the elves just don't want anything else to go wrong. They are very concerned that maybe something is wrong.
But Santa says that is not why he is going.
Santa told me that he usually gets around to all the reindeer ranches around the world at least once a year. He once said that there are 15 different ranches. Santa is proud of the fact that the reindeer come from different parts of the world and that, in fact, his sleighs are pulled by several different kinds of reindeer (I did not know there were many types of reindeer).
For obvious reasons, Santa has not been able to visit the reindeer ranches as he normally does.
He almost never visits one ranch after another as he is doing this week. Normally Santa will visit a ranch here or there as he can fit it in on other trips he makes to various parts of the world. This year is different in so many ways.
I hope Santa gives me a full report when he returns. I know many of you are concerned about the reindeer and I am hopeful Santa can give us news about when they might return.
I'll keep you posted.
In the meantime, visit often. I think we will have some announcements to make soon.

https://santaupdate.com/wp-content/uploads/2020/10/101320.jpg
321
845
Elf Ernest
https://santaupdate.com/wp-content/uploads/2023/01/newlogo23f.png
Elf Ernest
2020-10-13 06:56:43
2020-10-13 06:57:28
Santa Visits the Reindeer Ranches