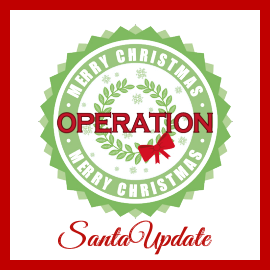 Operation Merry Christmas begins in two weeks. That's crazy!
As I look back at the little countdown we have been doing it just does not seem that long ago when there was no snow on the ground and the weather was warm. Outside it's totally Christmas though. In fact, it has been snowing here every day since BEFORE Halloween. The snow is up past the windows in some places at my house.
Somebody asked me other day which of the countdowns here at the North Pole I like the best. It is a very good question because we have so many countdowns. We count down the days to Christmas, the days to Santa's launch and the hours until Santa returns. We have countdowns to other days and holidays too.
But I like this countdown the best – the days until Operation Merry Christmas begins. This is also Santa's favorite countdown too.
For those of us here at the North Pole we work on Christmas every day of the year. We are lucky to have such happy work. But Operation Merry Christmas is really special because it comes with a big party to kick it off. That party, of course, is Thanksgiving and everyone at the North Pole is making big plans for that right now. I'm sure Elf Ernest will be telling you all about that or that you'll hear coverage of that on North Pole Radio News.
Anyway.
That's a big deal but once it is over the bigger deal is Operation Merry Christmas.
You wanna know a big secret?
Thanksgiving Night after everyone has gone out to look at all the lights and stuff everyone goes right to bed — funny as that sounds. But they do it because they are actually excited to go to bed. That's because they are excited to get to work the next morning.
Santa won't let people go to work early that day (or any day, for that matter). But, the Workshop — and nearly every other department at the North Pole — fires everything up and turns everything on at 12:01 am on Friday morning. It is something of a magical moment because it's Christmas. Our countdown by then changes from counting days to counting hours and minutes. Everything focuses on the time until Santa launches, no matter what department you work in at the North Pole.
It's magic as well because every sight and sound is now Christmas. Kringle Radio plays everywhere out loud so that everyone can hear the music. Of course, everything is decorated and lit. And the eggnog flows 24/7 and the cookies are always available.
It's just a magical time. We work, but we also play. Everyone looks forward to the first day of Operation Merry Christmas at the North Pole. We work all year long just to get to that moment.
The reindeer love that moment too. I sure hope they are here for it! Even I am starting to get a little bit worried about them. Santa keeps saying not to worry, but I'm ready for them to be here. That will be a good day, when they return.
Bye, friends! We'll talk again soon.

https://santaupdate.com/wp-content/uploads/2020/11/111320.jpg
321
845
Elf Trixie
https://santaupdate.com/wp-content/uploads/2023/01/newlogo23f.png
Elf Trixie
2020-11-13 07:25:49
2020-11-13 07:25:49
Operation Merry Christmas Begins in Two Weeks