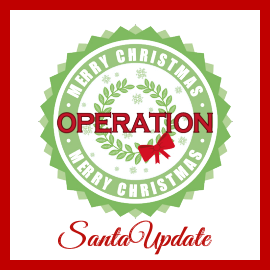 Operation Merry Christmas is now only ten days away! Yay!
So, I finally did it. I went over to one of the most secret places at the North Pole. I visited what many elves here call the TC – which stands for Tracking Center. You might know it as North Pole Flight Command.
It is located out by the Sleigh Port — which is near the reindeer barns. (Those reindeer barns have NO reindeer in them – boo! I keeping looking). The TC is one of the biggest buildings at the North Pole and it sits out there like a sore thumb. A big, windowless building in the middle of a wide, open field. It is the most un-Christmasy looking things we have here at the North Pole.
We need to talk to someone about that. That building is ugly. It needs lights and decorations. Or it just needs to keep snowing so that the building gets buried and cannot be seen.
I think I understand why they had to build it out there like that.
But let me tell you something. When you get inside that building it is a very big difference. I mean, from the outside you cannot tell what goes on inside. But once you get inside — you never want to see it. The place is a Christmas wonderland!
Seriously.
Inside there are lights everywhere. And because the building is so big they have tall, decorated Christmas trees everywhere. It's like walking through an inside forest — but there is no snow on the floor and it's cozy warm. So lovely.
But this is an elf work place. It's all about launching Santa, watching Santa fly and getting Santa back home again.
They gave me a tour of the place but did not show me everything. There is some top secret stuff in there and many rooms were locked and sealed off. It is the only place at the North Pole where I have ever seen elves who were guards. That was a little odd.
Anyway. The room of all rooms is what they call the Screen Room. You walk in and it has the feel of a bog bowling alley — you know, kinda dark. But that's on purpose. The room is wide and open, with sparkly lights at the top of a black ceiling and every square inch of wall space is filled with large screens including the main screen which is right in the middle. That screen shows the big world map.
That map is the same Santa Tracking Map you will see on Christmas Eve here on Santa Update and on the other official websites of the North Pole.
These screens are not only high on the wall so you can see each one no matter where you are in the room but there's also a big 3-D map table in the center of the room. In a complete circle of this big flat map are computer workstations and elves sitting at each one of them.
As they explained it to me each elf in that circle of computers has a special section of the world that they monitor. These are important elves who are responsible for feed critical information to Santa's sleigh at any one given time. I am told there is never a time when there is not an elf at each of those computers.
And Operation Merry Christmas to these elves has already started — weeks and weeks ago. They have their own countdown they follow — a secret countdown — and it expired some time ago. They are in their Operation Merry Christmas mode right now. To them, it's Christmas, and has been, for many, many days.
If you go to North Pole Flight Command right now you can see the big map and where they are tracking the test flights of Santa's sleigh. That map to you and to me looks like a simple thing. But behind that bouncing little sleigh icon are hundreds of elves who work in the TC.
They have another room there that is very cool — the Weather Room. It is another room that is filled with screens, although these screens are much smaller. There are more screens in the Weather Room. These screens are more like televisions because they show the weather in different parts of the world, all in real time. The room is full of weather elves who keep records, make forecasts and share breaking news of weather.
Anyway.
The North Pole Flight Command Center is a very cool place. If you ever get to the North Pole I recommend you go there and see it. I plan to come back, if they let me, near the time when Santa launches. I think it would be fun to see the place in action when Santa is actually making his way around the world.
Coming up this week will be some special things from me as we count down now daily to our big event, including another chat with Mrs. Claus.

https://santaupdate.com/wp-content/uploads/2020/11/111620a.jpg
321
845
Elf Trixie
https://santaupdate.com/wp-content/uploads/2023/01/newlogo23f.png
Elf Trixie
2020-11-17 05:21:06
2020-11-17 05:21:06
Operation Merry Christmas Begins in 10 Days