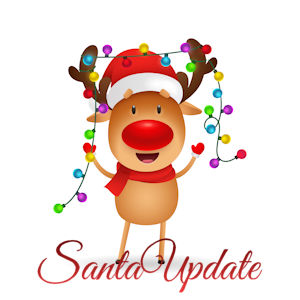 Concerns about the reindeer are now showing up in mail to the North Pole. Recent news reports about the elves at the North Pole who are concerned about the reindeer have now spilled over to people around the world voicing their concerns.
I spoke with Elf Hugo at the North Pole Post Office about that mail coming in.
"Yes, every time you guys in the news department deliver any type of tough news it affects us," Hugo said. "I personally think it's no big deal that the reindeer aren't here yet. I've been around long enough to know that in some years the reindeer come back later. But it doesn't matter what I think. The children out there read on SantaUpdate.com or hear on North Pole Radio News that the reindeer are not back and they worry. When they worry, they write letters. When they write letters, they come through my post office. So, yeah, it concerns me."
As you know, Santa has repeatedly said that the reindeer really are not late and that there is no need to worry about when the return.
But that hasn't stopped people from worrying. As we noted in the radio news report last week, elves at the North Pole are now putting up signs to express their worry and frustration.
A new episode of the North Pole Podcast by Elves Frank Myrrh and Crash Murphy of North Pole Radio News discusses information you may not know about Santa's reindeer.
Elf Crash Murphy's radio news assignment gives him a unique perspective on the topic of reindeer.
Crash follows Santa's sleigh in his own sleigh pulled by flying reindeer every Christmas Eve as part of his radio news assignment. He knows reindeer almost as well as Santa or even Elf Victor does. Crash shares a lot of detail about the reindeer in this episode.
We do anticipate some more news about the reindeer this week. It just isn't the news everyone wants. The test flights of Santa's sleigh will be expanding and there will need to be more reindeer available to make that happen. When that news is confirmed and the details become available, we'll share it with you.
But, officially, as of today, there is nothing new to report about Santa's team of reindeer. They are not yet back at the North Pole…still.
But once they do return and we know of their schedules we will, of course, share that news with you.
In the meantime, take a listen to the new podcast episode and relax. Things are fine.

https://santaupdate.com/wp-content/uploads/2020/11/111720b.jpg
320
845
Elf Ernest
https://santaupdate.com/wp-content/uploads/2023/01/newlogo23f.png
Elf Ernest
2020-11-17 07:40:10
2020-11-17 07:40:10
Concerns About Reindeer Voiced to the North Pole