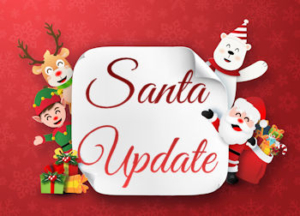 Today, very early in the morning, the North Pole kicked into high gear. Operation Merry Christmas 2020 has begun.
Just after midnight Santa flipped a switch in the workshop that started the drop of the big countdown clock. Each day it drops a little lower. That clock is like the countdown right on the front page of this website — it counts down to Santa's launch.
That's the time when everything needs to be done.
This year we technically have fewer days to do it. Of course, we have 365 days in a year every year but Operation Merry Christmas always begins on the day after Thanksgiving. Since Thanksgiving was a little later this year Operation Merry Christmas is little later this year. Really, all we have is 27 days to do this!
As usual, Santa began our effort with a little pep talk. He ran down the goals and the accomplishments of every department so far this year.
And actually, things look really, really good this year.
Like the rest of the world, the North Pole has been "locked down" for much of 2020. Santa, Mrs. Claus and the elves have more of less had to work at home this year. That actually means that the North Pole has had a lot of time to get ready.
Santa talked about each department: Santa's Workshop, the Reindeer Department, the Research and Development Department, the Post Office Department. The Packing Department, The Tracking Department, The Sleigh Department and even the Public Relations Department (that's us!).
Each department is ahead of schedule and nearly ready for Christmas right now.
That's never been done before.
That means we are poised to have a fantastic Christmas — both at the North Pole and all over the world.
But we began work early today because it's tradition to do so.
From this point forward the news from the North Pole comes pretty fast. In fact, we expect to share a news radio report with you later today. The big question will be, which one do we share with you?
These are the things we face now for the next 27 days. Please continue to send mail, questions and to participate in our chats. We will do our best to answer your questions.

https://santaupdate.com/wp-content/uploads/2020/11/112720a.jpg
320
845
Elf Ernest
https://santaupdate.com/wp-content/uploads/2023/01/newlogo23f.png
Elf Ernest
2020-11-27 01:10:04
2020-11-26 22:21:47
North Pole Kicks into High Gear