Only 3 months now until Christmas and we're in the homestretch! And, boy – does it feel like it. So very much is going on!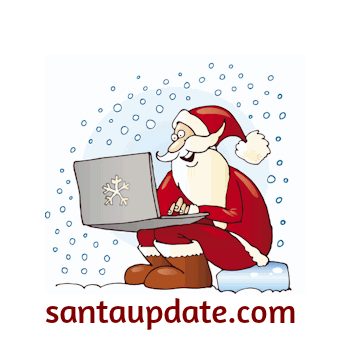 The North Pole this week suffered an outage of Internet, power, and for some, water. The big winter storm from last week continued right into this week (and it's still snowing, though not so bad). But with all that snow came those fierce winds and it just made a mess of things.
Unfortunately, as you can read over at North Pole Flight Command, they were working on some upgrades to the fiber optic lines that bring us our Internet here at the North Pole. That storm took us completely offline.
That affected us not only here in the News Department but all over the North Pole. Flight Command couldn't communicate with the Regional Tracking Centers, so communication was cut off with the test flights of Santa's sleigh.
Shipments of supplies to Santa's Workshop were delayed due to the weather. Production communication between the Workshop, the North Pole Post Office and the Wrapping Department were disrupted.
Santa missed seeing his Golf channel and the MLB playoff chases this week. Mrs. Claus couldn't watch the Hallmark Channel or the cooking shows she likes.
Some lost water due to be big main break and power was out for a while everywhere.
Of course, everyone is okay but many are asking what life would be like if an event like this happened on, say, December 23rd?
Santa, of course, is telling every elf and every department to get over it quickly. Many learned just how much we depend on the Internet now to do our jobs.
One thing this storm stopped, at least temporarily, is the reindeer return to the North Pole. We were getting more and more of them in everyday. Then the storm hit and it stopped. I heard that Santa sent word to Elf Victor to call the reindeer ranches and spread the word that the reindeer should not come back until the storm was over. The reindeer could most certainly fly in that storm and I'm told many of them had left and had to turn around. But Santa did not want to risk anyone getting hurt and just told everyone – not just the reindeer – the wait out the storm before coming to the North Pole.
I think things will pick up again later this week when we finally will see this storm clear out.
We did talk a long time with Elf Seymour Snow about this storm, because even weather experts like Seymour were taken by surprise by this storm. He told us that this storm was the equivalent of a Category 5 hurricane. He reminded us that big storms are no new thing to the North Pole but that something this big rarely happens in September.
Anyway, this storm did prevent us from holding our monthly chat with Elf Victor yesterday. We will re-schedule that. I'll have Elf Winslow make an announcement about that as soon as we work out the new details.
Things are otherwise in peak season here at the North Pole. Every department is humming along.
I think this next month we will focus a little bit on the North Pole Post Office Department. They are starting to get really busy too. We need some good reminders out there about how to get hold of Santa and how to send in a wish list.
So if you have questions about that, send them in!

https://santaupdate.com/wp-content/uploads/2022/09/092522.jpg
320
845
Elf Ernest
https://santaupdate.com/wp-content/uploads/2023/01/newlogo23f.png
Elf Ernest
2022-09-25 14:25:35
2022-09-25 14:06:40
3 Months Until Christmas