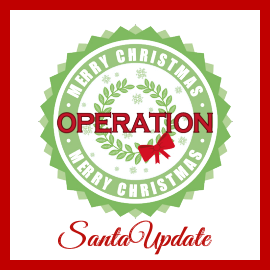 Operation Merry Christmas begins in 3 weeks — yikes!!! That's soon.
To be honest, I thought things would be a little busier by now. I mean, everyone here at the North Pole is working hard. Don't get me wrong. There's no such thing as a lazy elf. But there isn't the rush and the bustle I thought there would be.
Halloween was a lot of fun. I really enjoyed the party. But getting back to work on Monday I thought would be like Christmas Eve. Things are busy but everyone is all business.
The big thing now is getting the decorations and the lights up. Everyone is working on it.
The funny thing is they all talk about working on the lights now and getting them in before the snow flies. But it has been snowing here already for eight solid days. No lie. It's not stopping and the snow is already so very deep here.
I'm personally going to wait a couple of days. At the rate the snow is falling I won't need a ladder to hang my lights.
I know you're waiting on another conversation from me and Mrs. Claus. I was supposed to get together with her today. But she and Santa have been out of town up in the mountains at their cabin near the Hilltop Ranch — that's a local reindeer ranch that, frankly, does not have many reindeer. Anyway, none of us have been able to reach them.
In fact, I heard Santa missed his chat today.
We were told it was no big deal, that the snowy weather knocked out the power and Internet up there at the ranch. Of course, cell phone never work up there.
Anyway, they should be back this weekend and maybe then I can get together with Mrs. Claus.
Oh, forgot to tell you too — I bought myself a new trike.
I don't know why people think that is funny. But trikes are a big deal here at the North Pole. Elf Bonnie runs the trike shop here at North Pole Village. It is a very popular little shop. She makes trikes for big kids like me. Big kids, ha! Adults, I should say.
Anyway, my trike is pink, of course. And I love it. I cannot wait to ride it in the Thanksgiving Day Elf Parade here at the North Pole.
I sure hope the reindeer are home by then. I want to see them in the parade too.
Anyway. Have a great weekend guys and thanks for all the notes!

https://santaupdate.com/wp-content/uploads/2020/11/110320a.jpg
321
845
Elf Trixie
https://santaupdate.com/wp-content/uploads/2023/01/newlogo23f.png
Elf Trixie
2020-11-06 00:00:12
2020-11-04 21:52:59
Operation Merry Christmas Begins in 3 Weeks