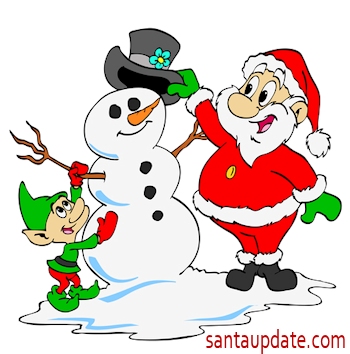 The time is going by so quickly this year! Maybe that's because it is so busy up here at the North Pole. Can you believe it is less than 3 months now until Christmas Eve?
The weather has turned colder sooner — in fact, we had our first snow storm of the season over the weekend. We had a lot of fun playing out in the snow. And, of course, snow puts everyone in the mood for Christmas.
We have been working hard. Over in the sleigh barn things are really getting busy. Santa himself was over there the other day welding a new sleigh frame with Elf Quinton and team. They are experimenting with a new light-weight aluminum frame that will be ten times sturdier but 100 times lighter. Elf Quinton says it is really special stuff and Santa wanted to see it. He ended up putting on his coveralls and donning the goggles to help out. Santa just can't help but be busy.
Elf Quinton says it will be weeks before the new sleigh is ready for test flights.
But that is okay because Elf Victor says the reindeer are not yet ready to fly. Getting snow helps but Elf Victor says that Santa grounds the reindeer during the months of September and October every year and works on conditioning in other ways. They run, they jump, and they play games but nobody is allowed to fly. Santa says it is about safety as much as it is proper exercise.
But there is a reason for the reindeer to love this time of the year — apples! It is apple harvest season in many places of the world and Santa has had several loads of different kinds of apples shipped up to the North Pole. "We cannot grow these fresh like this here at the North Pole," Santa said. "I've tried and we just don't have the climate for it here. The reindeer just love them, they are full of good vitamins."
Mrs. Claus loves the apples too, but she always orders a box or two of the Granny Smith apples, just for Santa. "Oh, those apples are very tart," Mrs. Claus said. "You don't want one of those green apples in your lunch. But they are great for pies and Santa just loves apple pie."
Over in Santa's workshop Elf Bernard reported today that things are looking good so far for Operation Merry Christmas.
In fact, if there is one area where the Santa effort is feeling stressed at all it is here in the Public Relations Department and over at Santa's Newsroom. We're still trying to figure out how to manage live Santa tracking on the radio this year. It will be a lot of work. So many elves are getting involved. We will have reporters at the North Pole Christmas Party, at different spots around the world and even on Santa's sleigh bringing news reports. This takes a lot of work and we hope we don't mess it up.
Other things are happening too. Santa has an interview that comes out in a week or so. Every year he meets with a reporter for a long interview. Lots of people look forward to that. Here is last year's interview, in case you missed it.
— Elf Ernest
https://santaupdate.com/wp-content/uploads/2023/01/newlogo23f.png
0
0
Elf Ernest
https://santaupdate.com/wp-content/uploads/2023/01/newlogo23f.png
Elf Ernest
2013-09-24 01:15:35
2013-09-23 12:31:18
Three Months Until Christmas Eve!