The greatness of Santa's new sleigh is prompting an unusual warning about your Christmas stocking.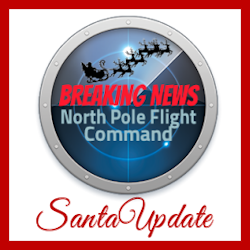 North Pole Flight Command is telling us that Santa's new sleigh is "light years" ahead of anything he has flown in the past. In fact, it is so fast some analysts are warning that Santa could arrive earlier than ever when he flies for Christmas this year.
That is prompting a warning from Elf Crash Murphy who said on North Pole Radio News today that kids would be advised to hang their stockings early because Santa's sleigh is so fast. You can listen to that report in the player below.
Hanging Christmas stockings is a Christmas Eve tradition in many places.
Of course, when we track Santa here on Christmas Eve, as we have online for 30 years now, you will receive a bed time advisory from North Pole Flight Command that is published by Santa himself.
So you will know when to go to bed.
But some are saying Santa could get there even before dark. That is going to put a crimp in some family Christmas Eve celebrations, if true.
I asked Flight Director Elf Buck Sanchez and he told me there is no way Santa will come before dark. He could do it, Buck said, but he WILL NOT do it. "Look," Elf Buck said, "Santa could come any time he wants. But that's not the point. He doesn't want to interrupt family celebrations at Christmas. He doesn't want to see kids in bed early. He's just not going to do it, even if there is a record at stake. It's a dumb idea."
Buck instead suggested that people need to think of the new capabilities of Santa's sleigh in a different way. "Imagine it, if something were to go wrong – say, a big storm or something else that delays Santa," Buck said. "With the new sleigh Santa can catch up faster than he could before. That's the real secret to this new sleigh and it is likely the only way Santa will use the new speed of the sleigh."
So parents can relax. There will be no need to go to be super early on Christmas Eve. And children can relax, too. Santa is NOT coming before you fall asleep.
But, hanging your stocking early is still really good advice.

https://santaupdate.com/wp-content/uploads/2021/12/121321.jpg
321
845
Elf Ernest
https://santaupdate.com/wp-content/uploads/2023/01/newlogo23f.png
Elf Ernest
2021-12-13 00:01:29
2021-12-12 21:11:30
Sleigh Prompts Warning About Christmas Stockings